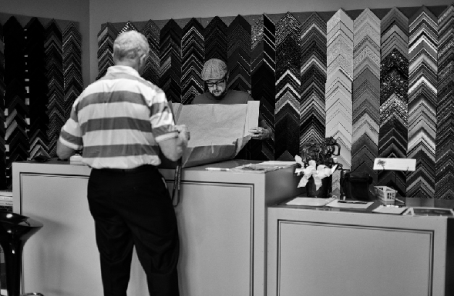 (Image source: https://c2.staticflickr.com/6/5538/9468050715_cc97b18d21_b.jpg)
How you choose to present your artwork, whether it is a water-colour, a photograph, a print or a drawing, affects its overall aesthetic appeal.
Mounting and framing your artwork will not only enhance its visual effect but also help protect your art from environmental damage and aging. Proper mounting will help you display the art in the most appropriate, safe and appealing manner.
If you are an artist you know that mounting choices should be determined by the importance and value of the art, its physical specifications (whether print, original, a photograph or a 3-D work) and the display requirements.
If you are a homemaker with an enviable art collection your first priority is probably how well the art enhances your home decor.
But whatever your concern, custom mounting your art will help you meet and exceed all the above expectations.
What Are the Different Aspects of Art Display?
All art forms do not require to be mounted. Gallery-wrapped or box-stretched paintings do not require to be framed. But other paintings, pictures and photographs will enjoy a better display if they are mounted and framed beautifully.
A frame helps draw a boundary between the art and its surroundings. It helps the viewer focus on the art and not get distracted by what lies outside.
A beautiful frame also adds to the beauty of the painting or the photograph. It was not for nothing that the early masters invested as much thought in getting the right frame as in getting the perfect brush strokes.
Another aspect to consider is the space where you want to display the art. If you put up a small painting on a huge wall, it will not get the deserving visual weight. The painting will look unbalanced and awkward with the large empty space surrounding it.
But if you mount the painting on a mounting board of suitable size then it can be slipped into a much bigger frame which makes both the art as well the display space look great.
Similarly large-size paintings can also be mounted appropriately to suit smaller display spaces.
Mounting gives a solid basis for display to various forms of artwork by attaching them to solid backings.
Where display of art is concerned mounting and framing are two distinct and separate steps which if employed together will give the best display and protection to your artwork.
If you have prints of photographs that are not of archival value like those of the last family holiday, then you can choose not to have a frame. These photographs can be mounted for display and hung on your wall.
What Is Custom Mounting?
With advances in technology, new and improved custom mounting techniques have found popularity and preference with artists and art lovers alike.
As stated above the type of mounting technique you use is determined by several factors.
Ordinary mounting techniques do not use archival materials or techniques. If you have prints or paintings that are not of great value and which you will replace after some time you can go for ordinary mounting methods.
But if you have an expensive art work or work of an upcoming artist that you expect to appreciate in value over time then it is recommended you go in for custom mounting procedures. Custom mounting is also referred to as museum mounting.
With custom mounting you get to pick and choose the quality of the mounting materials like mount board, adhesives and hinges. You also size the board to suit your preference.
Types of Mounting Techniques
Here are two of the popular mounting techniques which you can go for to give the best display for your art.
Dry Mounting

Dry mounting adheres the artwork to a rigid or semi-rigid surface. The mounting process is carried out by applying a heat press which attaches the photograph, painting or print to the backing board. However if you are worried the heat will damage the artwork, a vacuum press can also be used to the same effect.

Dry mounting will help keep photos, inexpensive prints, posters and water-sensitive works from cockling and crinkling, and gives them a great display.

The biggest disadvantage of this technique is that it is non-reversible. You are permanently altering the physical structure of the art by sticking it to the mount board. Dry-mounting is a strict no-no if you have a valuable painting or artwork. Dry-mounted art has virtually no resale value.

Wet-mounting is an alternative which can be used if you want to avoid the heat. Here wet glue is used to paste the painting or photograph to the mount board. This is also a non-archival method suitable for less expensive artworks.

     2. Conservation Mounting

Conservation mounting makes use of acid-free and archival quality mounting materials. The backing board, hinges, adhesives or tapes, and corners used in the process are all of archival quality.

Archival-quality materials do not allow any environmental damage to affect the art work. They are also 100% acid-free and are designed to keep your artwork free from the harmful effects of leaching acids.

Conservation mounting is recommended for all valuable art. They will protect the art and you can hang it on your walls for extended periods of time. Another benefit of conservation mounting is that it is suitable for a wide array of art forms. They can be used in shadow boxes also which are normally used for framing 3-D artworks.

Conservation mounting is expensive and time consuming, but is well worth all the trouble because of the protection and longevity it offers your precious art. It is also completely reversible and leaves no trace on the artwork when removed.
You Can Go for Store-Bought Mounting Kits Too

Pre-made frames and mounting boards, and mats cut to fit can be got from professional framers. Custom mounting services are offered by all reputed framers. You can also go for separate purchases for the frames and conservation-quality mounting materials.

If you are an avid DIY-er you can take on as much mounting job as you like and order for fitting custom-made frames. You can also buy cheaper standard-size frames and DIY the mounting process to fit your art into the frames comfortably.

Conclusion

Custom mounting your art opens a plethora of possibilities as to how you can display and exhibit the beautiful creations. Consult your local frame shop and decide what your choices and preferences are.