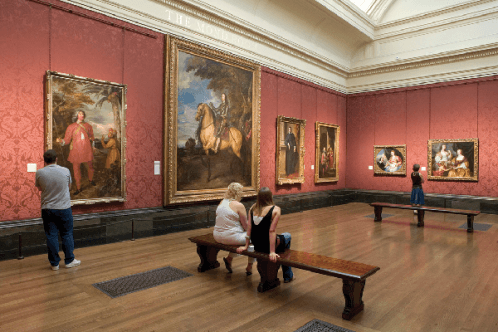 (Image source: http://www.grandor.ro/gdata/2011/12/national-gallery-interior.jpg)
Art comes alive and gets a personality of its own when it is framed beautifully. Artists have a hard time deciding on how to frame their paintings. Good frames do not come cheap, and when you have several beautiful pieces of art to frame then cost will definitely prove to be a serious impediment.
When you are an artist by profession your primary aim is to get your paintings to sell. If you are selling a watercolor for $400, the best price you can afford to spend on a frame is $30-$40. There are artists spending as much as 15% of the retail price on frames, and there are some who put cheap assembly-line made-in-China frames on their artworks.
So it all boils down to economics in the end. If you want your art to stand out and be spotted in an art gallery, it is necessary you put the best frames on your painting. The frame should complement the art and enhance its visual effect, importance and perceived value.
Here are a few tips for artists regarding how they should be framing their work.
The Viewer Can Spot a Good Frame
You cannot expect an average buyer to tell the difference between a museum quality custom frame and an assembly-line one. But they can definitely see and sense something 'different' in a quality-framed piece.
It is quite the same thing as with a 'designer' outfit and a 'rip-off'. Any fashion-conscious lady will be able to spot the 'difference'.
A good frame will accentuate your work, provide it complete and most reversible form of protection, and will go a long way in helping the painting stay beautiful for generations.
Also a discerning buyer will not like it when he realizes that his $3,000 painting has a cheap $30 frame on it. And in the world of art buying reputation and goodwill matters a lot. So do your best to keep customers happy.
Framing Works for Better Safety of Art
Presentation really matters when you are displaying art for sale.
A great frame includes the mat, the frame and the glass you put over it.
According to experts the use of quality materials will ensure the best safety and protection to the artwork.
Acid-free and archival mat board, backing and hinges prevent damage to the art in the long run. You should also ensure you use quality art supplies.
Acids present in mats and backing boards leach on to the painting over the course of time and result in yellowing and fading of color pigments. Acids also cause the breakdown of paper resulting in permanent damage.
You can avoid all this if you use archival quality framing and mounting processes for your artwork. UV-resistant and anti-reflective Plexiglass or acrylic glass is a good option especially because several galleries do not allow glass.
Frame Helps the Art Take Center Stage
An apt frame will be able to draw the attention of the viewer on to the art and also ensures the theme or the idea that the art strives to reflect comes across in all its glory.
A frame helps demarcate a painting from its surroundings and establishes a boundary with the external world. A suitable frame will help the viewer to stay with your art for a longer time and not get distracted by the 'goings-on' outside.
To a prospective buyer a framed painting looks much sturdier and has a 'finished look' which unframed artworks do not have. They will find it easier to envision it hanging on their walls and will be able to picture the overall effect it will have.
The average buyer looking for something to lift up their interiors will always prefer a framed painting that will go with their furnishings and decor.
If you are primarily aiming for this buyer segment, you will do well keeping abreast of popular interior designing trends and reigning color trends. Respected and established magazines and online stores also will help you get an idea of what people are prepping to splurge on.
This does not mean that you sell off your creative spirit for money but a few pieces for the market will always bring you the financial freedom that is so essential for all of us.
Framed Paintings Do Sell for More
A beautifully and professionally framed painting does sell for more in galleries and at stores. If the buyer is a homemaker shopping for her new home, she may in all probability change the frame to suit the decor, but the initial perceived value of the art in her eyes is greater if you have put a quality frame on it.
Discerning art collectors also value quality frames. The frame is a subtle clue about the quality of your artwork, and people who want the best will not be willing to buy your painting if you have a cheap frame that sends out the wrong message.
The frame makes up a part of the design element and is very much a part of the overall creative process. Most artists choose to add more than the actual cost of the frame to the retail price. This will help you recover your cost and make up for the time and effort you put into designing the frame.
You Can Go All out or Make Frames of Your Own
As stated earlier, frames can be terribly expensive. They range from $30 to $10,000 and beyond. And framing all of your precious artwork can also mean a big investment from your part. But there are options you can consider.
Standard Nielsen metal frames or IKEA frames are suitable options. You can also DIY the framing. It is possible to buy mats, frames and other stuff in bulk and go about creating the frame of your choice.
There are many Sydney picture framing shops that offer specialized services to artists. If you have a good working relationship with your framer it is possible to work out an arrangement that is economically viable and convenient for both of you.
Plain frames available in standard sizes are best if you are a professional artist. Also, keep the molding options limited to three or four, and ensure the corners are seamless for a professional and expensive look.
Do your research and zero in on the best framer in your locality. If he has an artistic eye and can contribute in the frame designing process, you will see that he can also turn out to be a solid adviser and partner in your art endeavor.
Conclusion
Frames do enhance and accentuate your art. A beautiful frame also indicates the value and worth you assign to your art. It affects the buyer psychology and increases its perceived value thereby resulting in a better retail price. So do brush up your framing skills to help sell your art better and for more.